Registration number :
Gender : Unknown
Category : Unknown
Breeder : Jos Thone
Seller : Messager Méru
Offre 1 couple d'Œufs
Jos Thoné est l'un des grands noms de la colombophilie à la fois en Belgique et à l'étranger
La liste des records remarquables de Jos Thoné :
4x Champion du Monde
6x 'Gouden Duif' (Le Pigeon d'Or)
5x Olympiades de Colombophilie
7x 1er National
2x 1er International
1x Champion National toutes catégories RFCB
1x Champion National RFCB, jeunes pigeons
12x 1er Champion National BDS
14x 1er Champion National LCB
1x Champion National RFCB fond, yearlings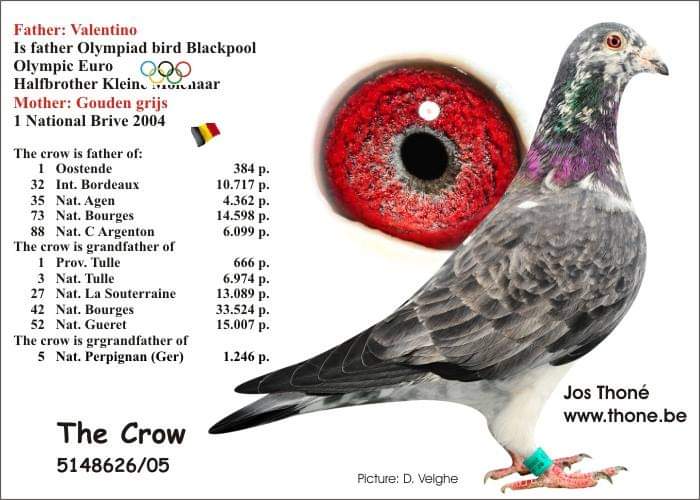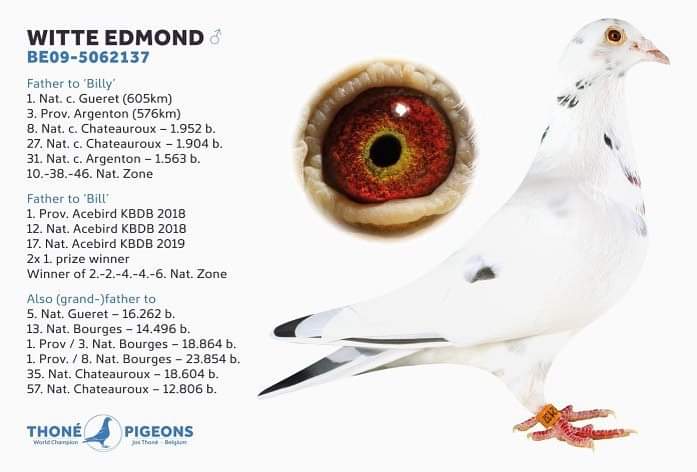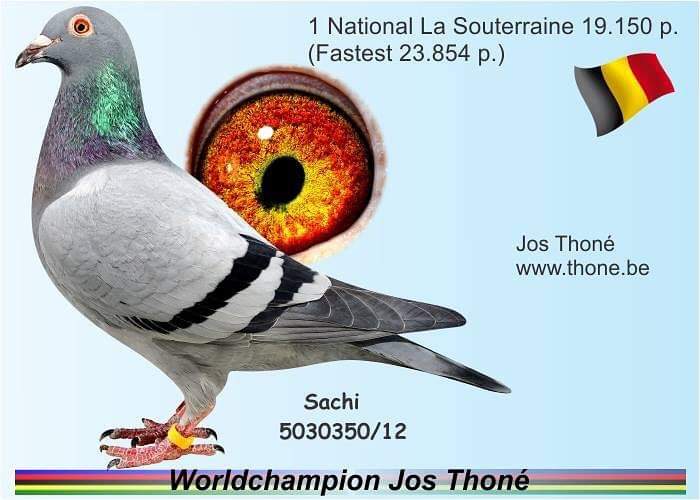 Bidding stops in
0d 00:00:00
Time is up.
Highest bid
200 €
by nigol (Hungary)
Bid saved !
You must be logged in to bid
. The auctions are open to all and entry is free. Sign up or log in :
Login
/
Register
.
Your bid must be an integer greater than the minimum amount specified.
An error has occurred. Your bid don't has not been registered. Try again.
Sorry, your bid was not registered in time ... It is finished.
This bid is closed.
Previous bids (
11

)
| DATE | BIDDER | BID |
| --- | --- | --- |
| 2020-11-22 19:04 | nigol (Hungary) | 200 € |
| 2020-11-22 19:03 | bts (France) | 160 € |
| 2020-11-22 19:03 | nigol (Hungary) | 160 € |
| 2020-11-19 20:49 | loic59 (France) | 150 € |
| 2020-11-12 22:20 | Arthur (france) | 100 € |
| 2020-11-12 22:20 | becasse (France) | 100 € |
| 2020-11-10 13:36 | Arthur (france) | 90 € |
| 2020-11-10 12:29 | loic59 (France) | 80 € |
| 2020-11-08 20:03 | Sion (France) | 70 € |
| 2020-11-08 07:32 | Pilou25 (France) | 60 € |
| 2020-11-07 20:52 | arnaudc62 (France) | 50 € |