Registration number :
Gender : Unknown
Category : Unknown
Breeder : Maxime Renaud
Seller : Amicale Coulonneux Anhiers
Offre 1 jeune 2021 à convenir
Champion incontesté depuis plusieurs années du groupement (Zone) à l' International . Il excelle dans toutes les catégories de la courte distance à l'extrême longue distance,
en 2020 :
1er As Nat général courte distance
1er As Nat en catégorie jeune pigeon
1er Champion Nat général jeune pigeon
1er champion Régional courte distance en catégorie vieux, Yearling et jeunes
1er champion général groupement
1er champion courte distance groupement
1er champion moyenne distance groupement
1er as pigeon courte distance jeune pigeon
1er as pigeon moyenne distance Vieux
1er as pigeon longue distance vieux et Yearling
2e champion National longue distance
4e champion National toutes catégories
4e As pigeon sur Agen sur 3 années
Pas moins de 16 X 1er Prix de 100km à 600km
Extrême longue distance :
7e National – 15e International Pau
11e National – 45e International Narbonne
60e National – 524e International Agen Yearlings
Longue distance :
1er, 2e, 3e, 4e et 5e St Junien2 catégorie Vieux
1er St Junien1 catégorieVieux
1er, 3e, 4e, 6e.. St Junien2 catégorie jeunes
1er St Junien2 catégorie Yearlings
1er Savigneux catégorie Yearlings
1er Chateauroux catégorie Yearlings
1er et 2e Issoudun catégorie Jeunes
3e Argenton catégorie vieux
4e Chateauroux catégorie Vieux
5e, 6e… Chateauroux catégorie jeunes
6e St Junien1 catégorie Yearlings
6e Issoudun catégorie Vieux
7e, 8e … Issoudun catégorie Yearlings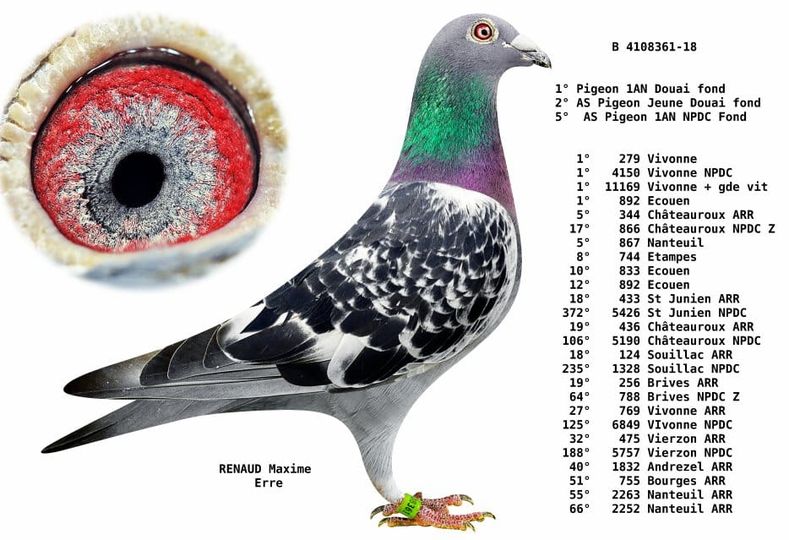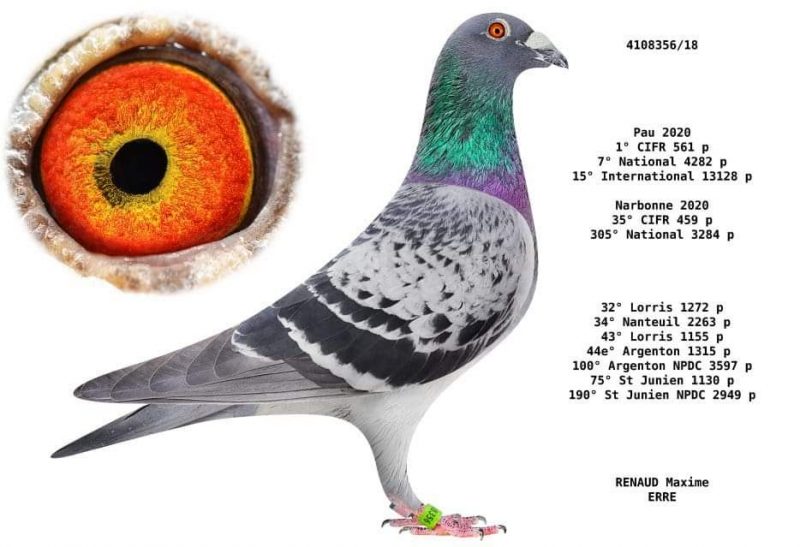 Bidding stops in
0d 00:00:00
Time is up.
Highest bid
500 €
by Christophe D (France)
Bid saved !
You must be logged in to bid
. The auctions are open to all and entry is free. Sign up or log in :
Login
/
Register
.
Your bid must be an integer greater than the minimum amount specified.
An error has occurred. Your bid don't has not been registered. Try again.
Sorry, your bid was not registered in time ... It is finished.
This bid is closed.
Previous bids (
30

)
| DATE | BIDDER | BID |
| --- | --- | --- |
| 2020-11-28 20:46 | Christophe D (France) | 500 € |
| 2020-11-28 20:36 | maraicher59 (France) | 460 € |
| 2020-11-28 20:26 | Christophe D (France) | 450 € |
| 2020-11-28 20:25 | maraicher59 (France) | 430 € |
| 2020-11-28 20:23 | Christophe D (France) | 420 € |
| 2020-11-28 20:17 | maraicher59 (France) | 410 € |
| 2020-11-28 20:14 | Christophe D (France) | 400 € |
| 2020-11-28 20:14 | maraicher59 (France) | 360 € |
| 2020-11-28 20:13 | Christophe D (France) | 350 € |
| 2020-11-28 20:12 | maraicher59 (France) | 310 € |
| 2020-11-28 20:09 | Christophe D (France) | 300 € |
| 2020-11-28 20:08 | maraicher59 (France) | 290 € |
| 2020-11-28 19:49 | Christophe D (France) | 280 € |
| 2020-11-25 16:31 | maraicher59 (France) | 270 € |
| 2020-11-22 22:08 | Christophe D (France) | 260 € |
| 2020-11-22 19:06 | maraicher59 (France) | 250 € |
| 2020-11-22 18:25 | Christophe D (France) | 200 € |
| 2020-11-22 18:20 | maraicher59 (France) | 160 € |
| 2020-11-22 18:06 | BJ (France) | 150 € |
| 2020-11-22 18:01 | maraicher59 (France) | 140 € |
| 2020-11-22 17:24 | Christophe D (France) | 130 € |
| 2020-11-22 15:48 | BJ (France) | 120 € |
| 2020-11-16 21:41 | Christophe D (France) | 110 € |
| 2020-11-16 21:40 | FOM (France) | 100 € |
| 2020-11-16 21:40 | Christophe D (France) | 100 € |
| 2020-11-16 20:54 | FOM (France) | 80 € |
| 2020-11-16 20:52 | Ludo (France) | 70 € |
| 2020-11-16 20:34 | LOLO (France) | 60 € |
| 2020-11-16 20:20 | Seb59490 (France) | 50 € |
| 2020-11-16 20:18 | Tof62 (France) | 30 € |