Registration number :
Gender : Unknown
Category : Unknown
Breeder : Michel Dubois
Seller : Messager Méru
Offre 1 Tardif  voir pédigrée ci dessous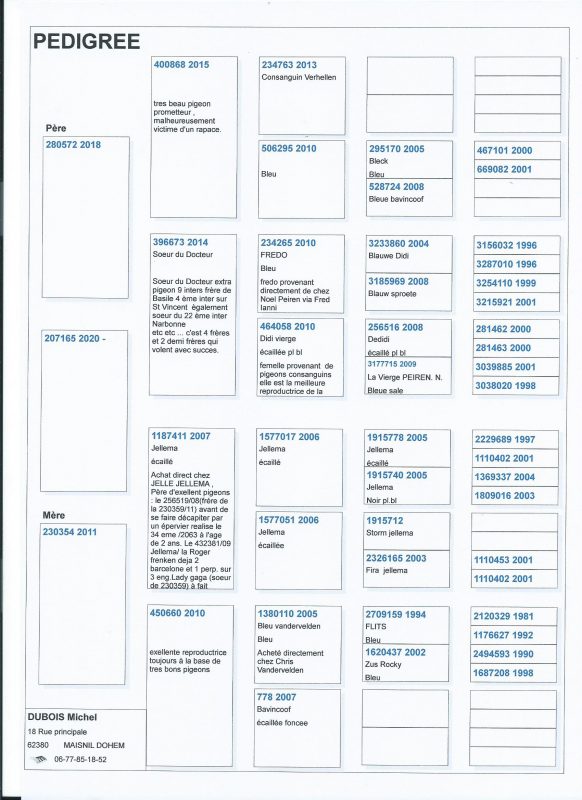 Certainement une des meilleures colonies européenne depuis plusieurs décennies.
Il dispose d'une base extrêmement efficace et chaque introduction comme chaque croisement effectué est le fruit d'une mûre réflexion.
Après une 2019 stratosphérique, Michel a de nouveau brillé en 2020.
.
Les origines :
Jell Jellema – Perein – Ovaer/Sion – Ben R. ….
Principaux résultats 2019 :
1er International Femelles            Agen
1er International Yaerlings            Agen
1er et 2ème Nat.                       Pau
1er NPC                                  St Vincent
4 fois 1er mise en loge St Omer
Ajouter à cela :
Vainqueur de la Coupe d'Europe
As Pigeon Européen 2015 « Invictus »
As pigeon Européen 2018 « Aristo »
Principaux résultats 2020 :
1er à la mise en loge de St Omer sur 92 (Classement final)
Pau :                           13/22
Agen Vieux :               7/21
Marseille :                   4/5                        1er au dépôt St Omer
138/3925 au Général
St Vincent                   10/14
Perpignan :                 74/15               1er au dépôt St Omer
59/4210 au Général
Narbonne Vieux :       5/14
Narbonne 1 An :         2/3
2 fois 1er mise en loge St Omer
Bidding stops in
0d 00:00:00
Time is up.
Highest bid
310 €
by BEAE (France)
Bid saved !
You must be logged in to bid
. The auctions are open to all and entry is free. Sign up or log in :
Login
/
Register
.
Your bid must be an integer greater than the minimum amount specified.
An error has occurred. Your bid don't has not been registered. Try again.
Sorry, your bid was not registered in time ... It is finished.
This bid is closed.
Previous bids (
16

)
| DATE | BIDDER | BID |
| --- | --- | --- |
| 2020-11-22 20:21 | BEAE (France) | 310 € |
| 2020-11-22 19:50 | 0000 (France) | 300 € |
| 2020-11-22 19:48 | BEAE (France) | 290 € |
| 2020-11-22 19:18 | 0000 (France) | 280 € |
| 2020-11-22 19:04 | BEAE (France) | 270 € |
| 2020-11-10 16:49 | 0000 (France) | 260 € |
| 2020-11-10 10:01 | Pascal L (France) | 250 € |
| 2020-11-09 19:42 | 0000 (France) | 210 € |
| 2020-11-08 18:13 | Greg corroyette (France) | 200 € |
| 2020-11-08 15:24 | 0000 (France) | 190 € |
| 2020-11-08 12:49 | pigeon14 (France) | 180 € |
| 2020-11-08 12:46 | Greg corroyette (France) | 170 € |
| 2020-11-08 09:17 | JM22011957 (France) | 160 € |
| 2020-11-07 21:23 | pigeon14 (France) | 150 € |
| 2020-11-07 21:04 | Greg corroyette (France) | 120 € |
| 2020-11-07 20:27 | pigeon14 (France) | 100 € |