Registration number : BE2020-1051594
Gender : Male
Category : Grand-Fond
Breeder : Baert - Debusschere
Seller : Baert - Debusschere
Petit-Fils  BELMONDO :
1er International Agen 2018 13325p – Plus grande vitesse des 24849p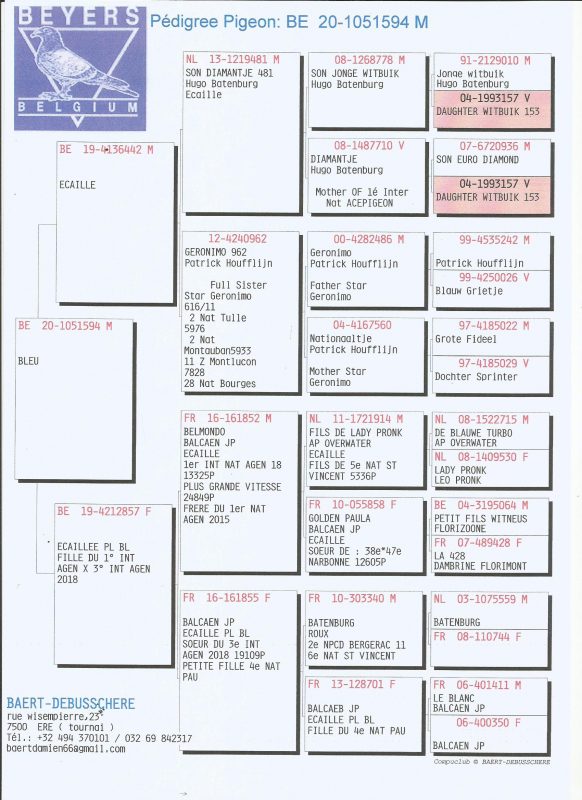 Bidding stops in
0d 00:00:00
Time is up.
Highest bid
170 €
by dmv59 (France)
Bid saved !
You must be logged in to bid
. The auctions are open to all and entry is free. Sign up or log in :
Login
/
Register
.
Your bid must be an integer greater than the minimum amount specified.
An error has occurred. Your bid don't has not been registered. Try again.
Sorry, your bid was not registered in time ... It is finished.
This bid is closed.
Previous bids (
4

)
| DATE | BIDDER | BID |
| --- | --- | --- |
| 2020-11-21 18:20 | dmv59 (France) | 170 € |
| 2020-11-18 09:17 | Ordre d'achat par mail | 150 € |
| 2020-11-12 23:13 | lou (Belgique) | 140 € |
| 2020-11-11 22:32 | dmv59 (France) | 120 € |