Registration number : RO 2020-732479
Gender : Female
Category : Grand-Fond
Breeder : Christian Stan
Seller : Christian Stan
On retrouve les plus grands vainqueurs de ces dernières éditions de Barcelone de ce pédigrée : "Sumerian Fighter" -  "Jan Barcelona" - "La Primera" -  "New Remy" - "New Laureaat" - "Special One"
Père : NL 2018-1367328 - Petit-Fils "SUMERIAN FIGHTER"
Petit-Fils "SUMERIAN FIGHTER"
Petit-Fils "JAN BARCELONA"
Petit-Fils " LA PRIMERA"
Mère : NL 20119-1498623- Petit-Fils "NEW REMY"
Fils "NEW REMY" X Petit-Fille "NEW LAUREAAT" & "SPECIAL ONE"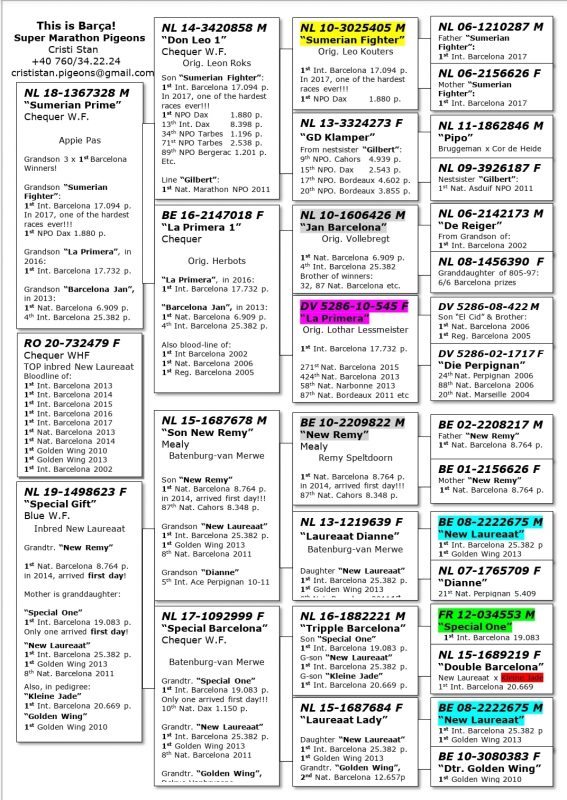 https://youtu.be/hUIx3yWPKpk
Bidding stops in
0d 00:00:00
Time is up.
Highest bid
340 €
by dim (France)
Bid saved !
You must be logged in to bid
. The auctions are open to all and entry is free. Sign up or log in :
Login
/
Register
.
Your bid must be an integer greater than the minimum amount specified.
An error has occurred. Your bid don't has not been registered. Try again.
Sorry, your bid was not registered in time ... It is finished.
This bid is closed.
Previous bids (
13

)
| DATE | BIDDER | BID |
| --- | --- | --- |
| 2020-12-06 16:13 | dim (France) | 340 € |
| 2020-12-05 08:10 | Autour des Palombes (France) | 320 € |
| 2020-12-05 08:09 | dim (France) | 300 € |
| 2020-12-05 08:09 | Autour des Palombes (France) | 280 € |
| 2020-12-05 08:06 | dim (France) | 260 € |
| 2020-12-05 08:06 | Autour des Palombes (France) | 240 € |
| 2020-11-30 08:55 | dim (France) | 220 € |
| 2020-11-30 02:59 | Lb (France) | 200 € |
| 2020-11-29 17:31 | Francisco 54 (France) | 180 € |
| 2020-11-29 14:58 | Lb (France) | 160 € |
| 2020-11-27 08:45 | Francisco 54 (France) | 140 € |
| 2020-11-25 08:25 | dim (France) | 120 € |
| 2020-11-22 20:31 | kevin (France) | 100 € |