Registration number : FR2020-093377
Gender : Female
Category : Grand-Fond
Breeder : Douay Père & Fils
Seller : Douay Père & Fils
Lignées MIRACLE Vandenheede X CAS Joost De Smeyter
MIRACLE Gagne :
1er As Pigeon Nat Fond Vieux RFCB 2013
6/1605p Tulle Pro
8/6658p Libourne Nat
124/1427p Limoges Nat
70/1250p Souillac Pro
38/14362 Guéret Nat
93/7828p Montluçon N.Z
225/31719p Bourges II Nat
410/8476p Argenton N.Z
811/17735p Limoges YL Nat
CAS gagne :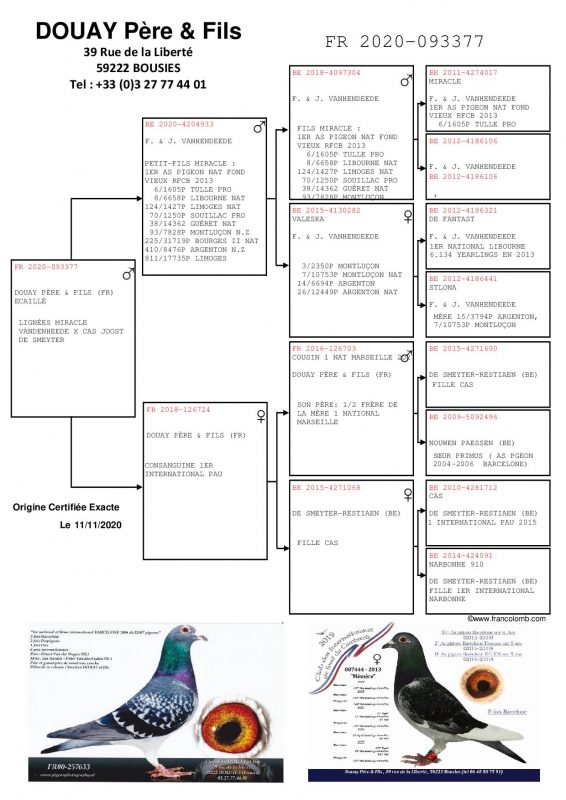 Bidding stops in
0d 00:00:00
Time is up.
Highest bid
140 €
by Ernes (France)
Bid saved !
You must be logged in to bid
. The auctions are open to all and entry is free. Sign up or log in :
Login
/
Register
.
Your bid must be an integer greater than the minimum amount specified.
An error has occurred. Your bid don't has not been registered. Try again.
Sorry, your bid was not registered in time ... It is finished.
This bid is closed.
Previous bids (
2

)
| DATE | BIDDER | BID |
| --- | --- | --- |
| 2020-11-12 19:05 | Ernes (France) | 140 € |
| 2020-11-12 05:43 | Damien (France) | 100 € |