Registration number : BE2020-4181509
Gender : Female
Category : Grand-Fond
Breeder : Baert - Debusschere
Seller : Baert - Debusschere
Granddaughter KLEINE PERPIGNAN
1 National Perpignan 3964p
7 International Perpignan 12353p
Father : BE 2019-4136314 - "MAGIC PERPIGNAN" - Original Erik Limbourg
KLEINE PERPIGNAN (1 National Perpignan) X "SISTER BLACK MAGIC" ( sister 1 International Perpignan)
KLEINE PERPIGNAN win: 
1 National Perpignan 3964p

7 International Perpignan 12353p
"SISTER BLACK MAGIC" is sister of BLACK MAGIC. BLACK MAGIC win :
1 International Perpignan 17965p
34 National Montauban 6822p
"SISTER BLACK MAGIC" is half-sister of 5 National Barcelone 7874p.
Mother : FR 2017-388947 - "SISTER LEXUS"
Sister LEXUS.
LEXUS win :
3 Ace National +750kms

4 Ace International 2018

2 National Pau 3830p

6 International Pau 11739p

25 National St-Vincent 3076p

34 International St-Vincent 9458p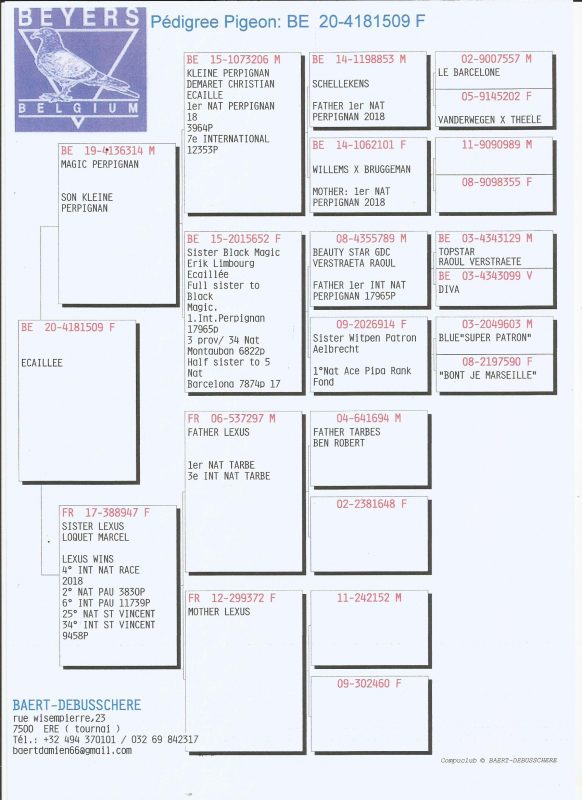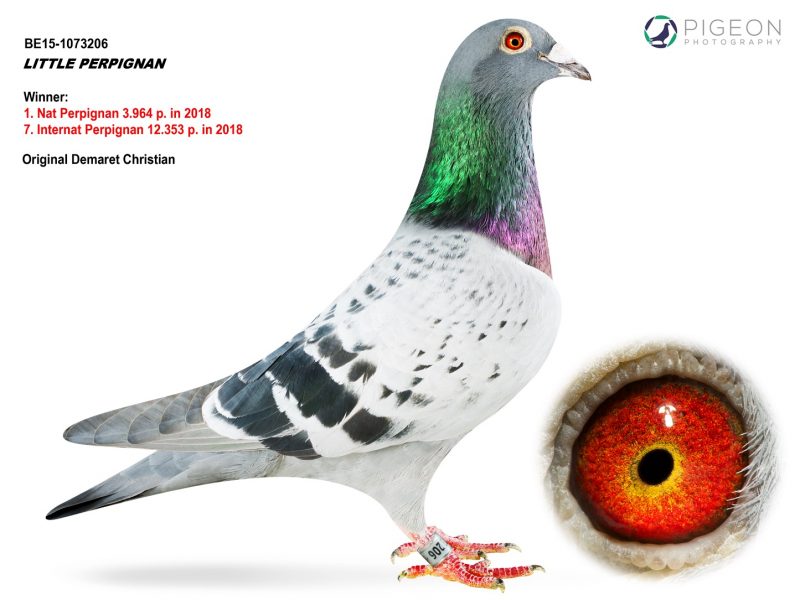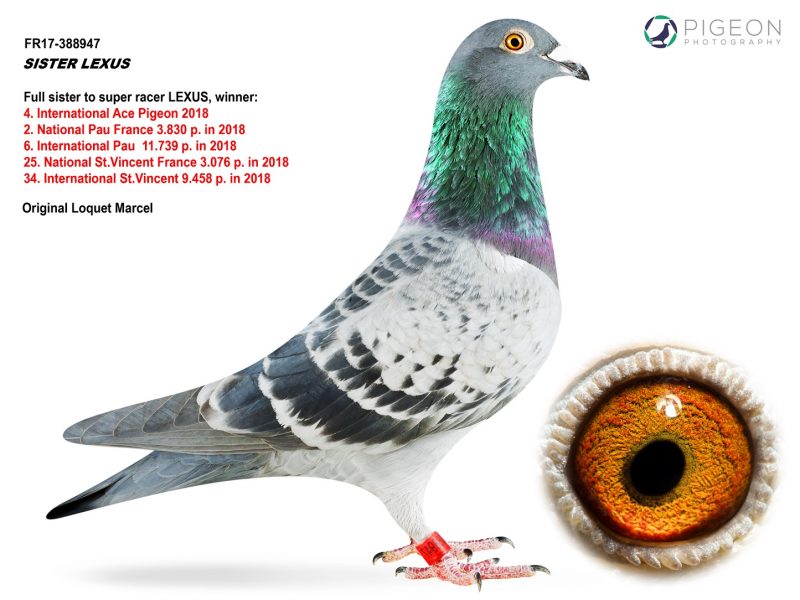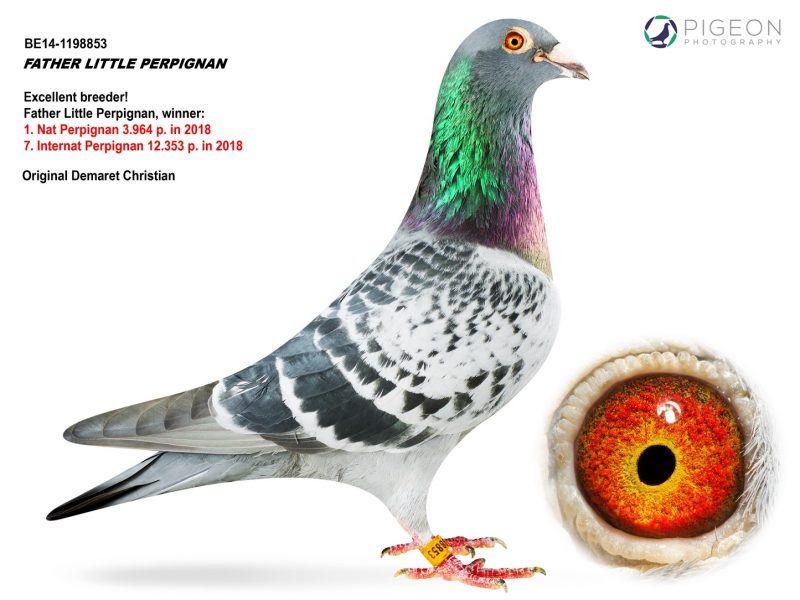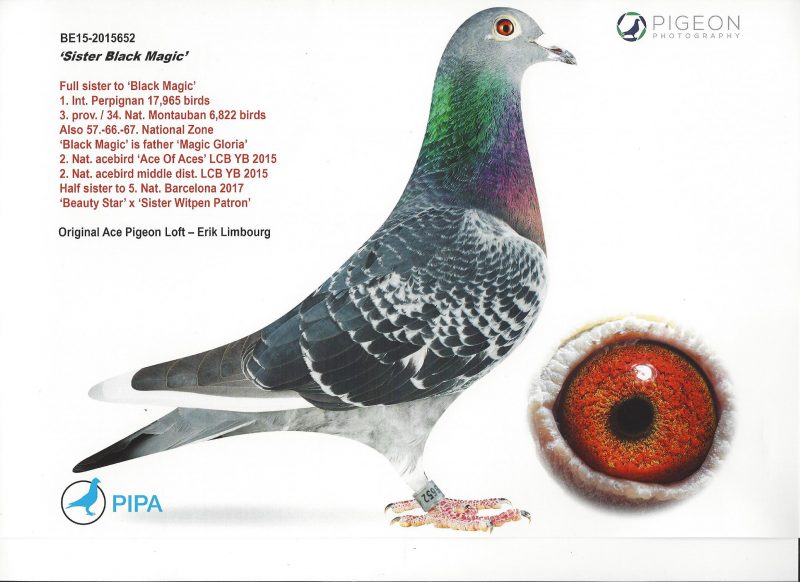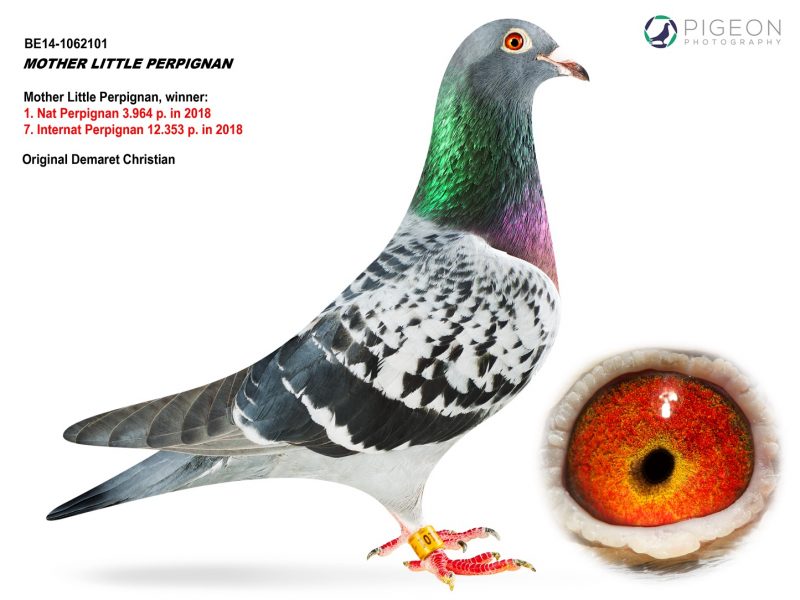 Bidding stops in
0d 00:00:00
Time is up.
Highest bid
340 €
by Sion (France)
Bid saved !
You must be logged in to bid
. The auctions are open to all and entry is free. Sign up or log in :
Login
/
Register
.
Your bid must be an integer greater than the minimum amount specified.
An error has occurred. Your bid don't has not been registered. Try again.
Sorry, your bid was not registered in time ... It is finished.
This bid is closed.
Previous bids (
13

)
| DATE | BIDDER | BID |
| --- | --- | --- |
| 2020-11-22 20:55 | Sion (France) | 340 € |
| 2020-11-22 20:54 | A.G.E46 (France) | 320 € |
| 2020-11-22 20:24 | Sion (France) | 300 € |
| 2020-11-22 20:19 | dmv59 (France) | 280 € |
| 2020-11-22 19:55 | A.G.E46 (France) | 260 € |
| 2020-11-22 19:54 | Pierre1984 (Belgique) | 240 € |
| 2020-11-20 19:30 | Desb (France) | 220 € |
| 2020-11-19 11:37 | FOM (France) | 200 € |
| 2020-11-17 02:46 | Ren (France) | 180 € |
| 2020-11-14 20:24 | Desb (France) | 160 € |
| 2020-11-14 19:52 | b20-100 (France) | 140 € |
| 2020-11-13 20:55 | Desb (France) | 120 € |
| 2020-11-11 14:39 | b20-100 (France) | 100 € |