Story of passionate breeder

Part 1 – From its original Van Der Wegen
Before being a very good racing foncier, remember that Jean-Paul realized in 2015 2 times 1st National, Jean-Paul is especially fine breeder and passionate origins of extreme long-distance. In an exclusive interview, Jean-Paul delivered us how he obtained and how it has grown and keep those lines intact.
In this first part, he tells us about the origin of his Van Der Wegen line (line of his Paul: 1st National Pau and 2nd International 2015). For expert of the origins Van Der Wegen, personnel numbers were highlighted.

In Aix Noulette, basic breeders are :
DIESEL : FR2004-031899 (23 prices of 23 basketed in extreme long-distance)
Sister of DIESEL : The FR2005-622406
Brother of DIESEL, The "Petit CHARLY" : FR2009-118258
and 2 Piet OVERKLEEFT : The NL-2010-1603023 (mother of PAUL) and the NL-2007-1002210
It all starts with the purchase of CHARLY. In 2002 Jean-Paul had decided to his friend Jean-Pierre WALKOWIAK from Mazingarbe to go to Deerlijk in Belgium in a total sale of a Dutch amateur who owned pigeons from Antoon & Luci Van der Wegen.
This sale was organized by the Gyselbrecht family. Even then, Jean-Paul recalled that the 2 little brothers Gyselbrecht (Nikolaas and Thomas) were distributing catalogs of their pigeons glossy, beautiful indeed. We were in 2002, 15 years later Nikolaas and Thomas are at the head of the firm known worldwide: Pipa.
In the grip of the pigeons of this sale, we had to give 5€, reimbursed by the purchase of a pigeon.
At this auction Jean-Paul and Jean-Pierre had met with Jean Louis FAUCHE of Warêt l'Evêque (remember that the Fauche brothers have several international victories including Pau and Bordeaux in 1993, and the legendary reca of Barcelona in 2003). Jean-Louis Fauche explained to them its stringent selection criteria, besides too flavor of Jean-Paul as pigeons may possess unseen qualities like biting, intelligence and metabolism.
At this auction were also present Erik Limbourg, Etienne Devos and many other fanciers stars …
Jean-Pierre and Jean-Paul had spotted the mother of Charly BE 1997-4578367, an ashy blue and daughter of Laureaat BARCELONA. The Laureaat BARCELONA, BE19292-4428350, won 1st International Barcelona in 1995 ownering by Rémi Gyselbrecht.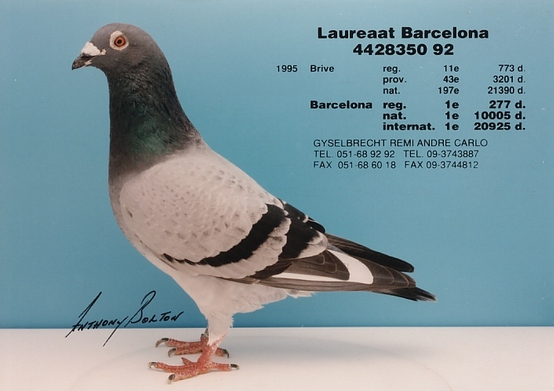 Jean-Paul had also noticed some son and daughters of this female. This female was coupled with a direct Antoon & Luci Van der Wegen NL-1997-9768202.
Come auction and Jean-Paul looked forward to the turn of this female, he even asked the seller to translate into French, who kindly agreed. From the beginning Jean-aul raised his arm several times and suddenly it was double, triple … A sum of money that had knocked out Jean-Paul and looking at his friend Jean-Pierre that made him a smile meant that this type of pigeon was not for them, it was in another world !!!
Then come in turn to the son and daughters, even punishment and arrived at last Jean- Pierre said to Jean-Paul, "I have a nice amount of money in cash in my wallet while riding on pigeon (Charly), I will sign will stop listening but especially Jean-Paul I bought this pigeon. " So without thinking and excitement Jean-Paul raised his arms until Jean-Pierre sign of abandoning him to do. Then after a time, once, twice and thrice awarded the vendor looked at me with a big smile and Jean-Pierre tapped his shoulder. Finally Jean-Paul had a great source of pigeon for the general background, both very happy but anxious to announce the amount to his wife. So after the sale with Jean-Pierre, they have a few beers he admits not remember the number.
After the border, Jean-Paul went to the window of a bank to pay Jean-Pierre.
Charly is the father of basic reproductive FR2004-031899 DIESEL (23 price of 23 basketed in the extreme long-distance), his sister FR2005-622406 his brother "Le Petit CHARLY" FR2009-118258, spitting CHARLY.
Pedigree Père de CHARLY
It was nice to have got a male, but for young people of the same quality, it now had a female of the same origin.
It was at Claude HETRU Jean-Paul decides to buy this female, 449605-2003 after 2 high and ringed birds from Antoon & Luci Van der Wegen.
The foundation established with the results of previously son of the couple, then had to build walls to build a line of competitive pigeon long term.
Jean-Paul then contact Piet Overkleeft he had met with Florimond DAMBRINE in J.de Wijs & Zn, and he knew that he possessed original pigeons A & L Van der Wegen.
It was then that Piet answers have all sold him to the same buyer without saying more, and he was going to make a trip to the United States.
A few months after Jean-Paul found the pigeons of Piet Overkleeft in advance on the website HERBOTS with a final sale room near Brussels. He decided to go there accompanied by my friend Joel Van Liefde.
In the complex the room was empty, arrived maybe too early, they are then returned to the bar to drink a few beers, they quickly sympathize with some Belgian pigeon fanciers and seeing the time to turn Jean-Paul asked the boss when sale begins and with large eyes she replied: "But that's tomorrow Sir".
So with his friend Joel, they laughed and also our Belgian friends. One of them eutre invited them to see his pigeons.
The next day, Jean-Paul and Joel have returned and bought 2 topics Piet Overkleeft: The NL-2010-1603023 (PAUL mother) and NL-2007-1002210.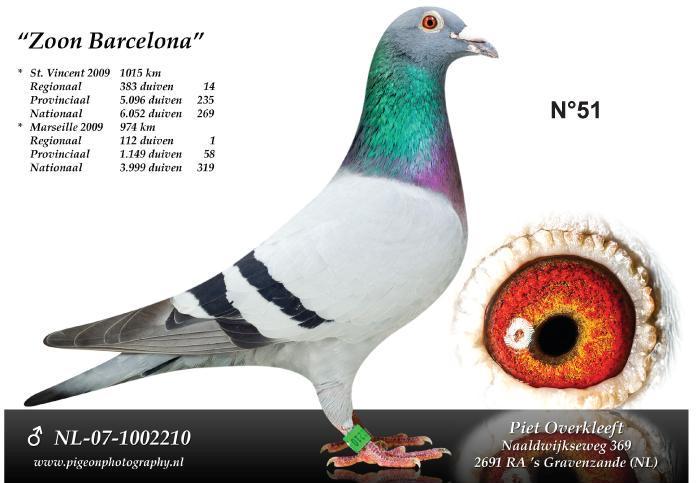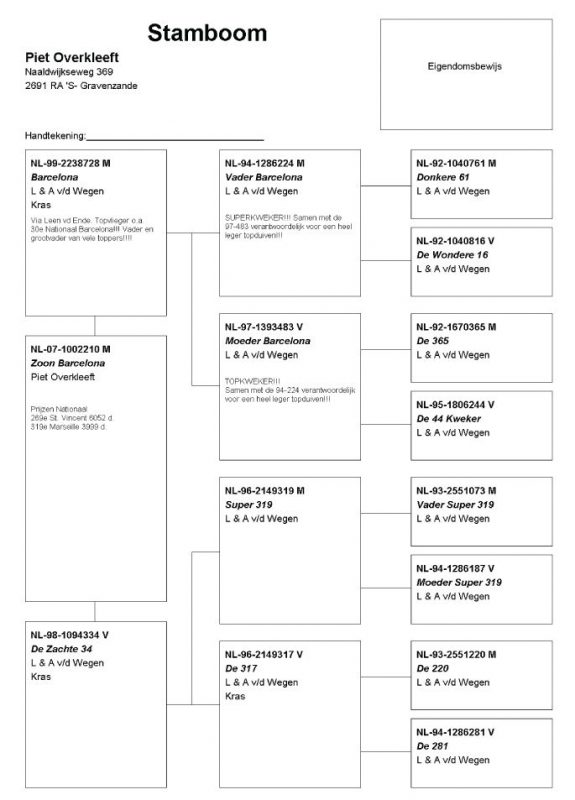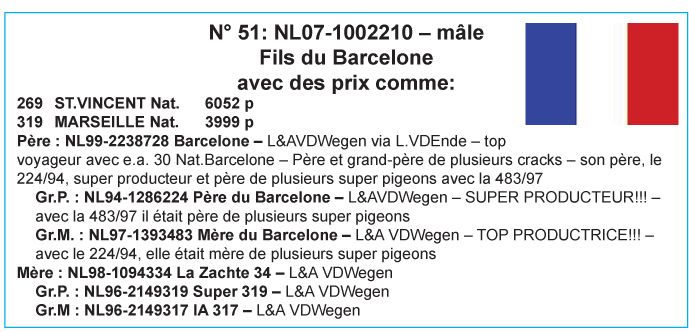 From these two lines emerged PAUL, 1st national and 2nd international Pau 2015, his brother the 716 that performs 5 prices of 5 basketed in international races (2 in 2015 and 3 in 2016).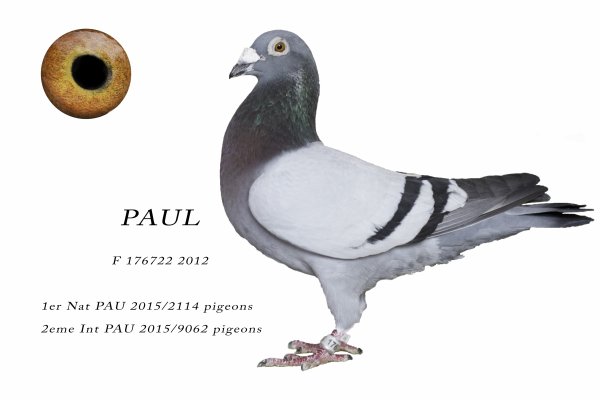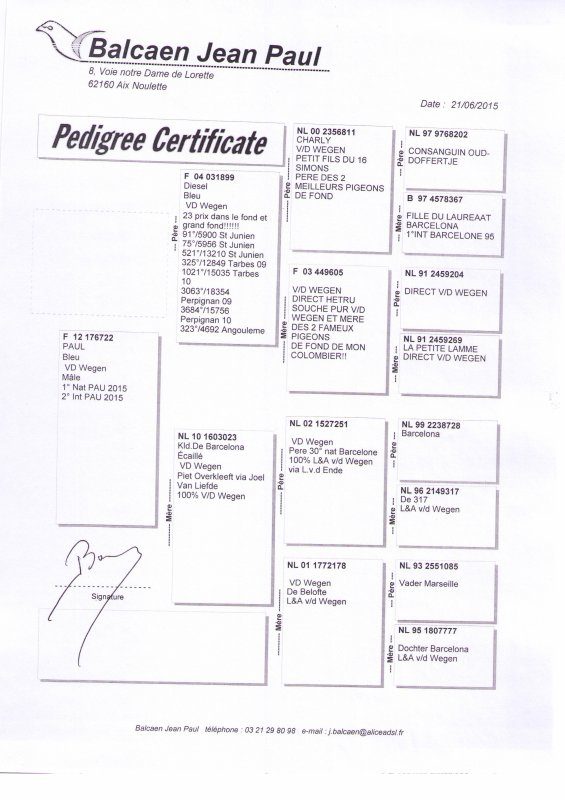 PAUL is a blood relative of the famous "Oud Doffertje" Antoon & Luci Van der Wegen, his father DIESEL comes from CHARLY himself little son of Laureat-Barcelona 1st international Barcelona 1995 (also line 1st international Barcelona 2013) and great-grand-son of the famous "16" registration number 985016/1978 SIMONS himself grandfather of world famous "Blauwe Vanoppen".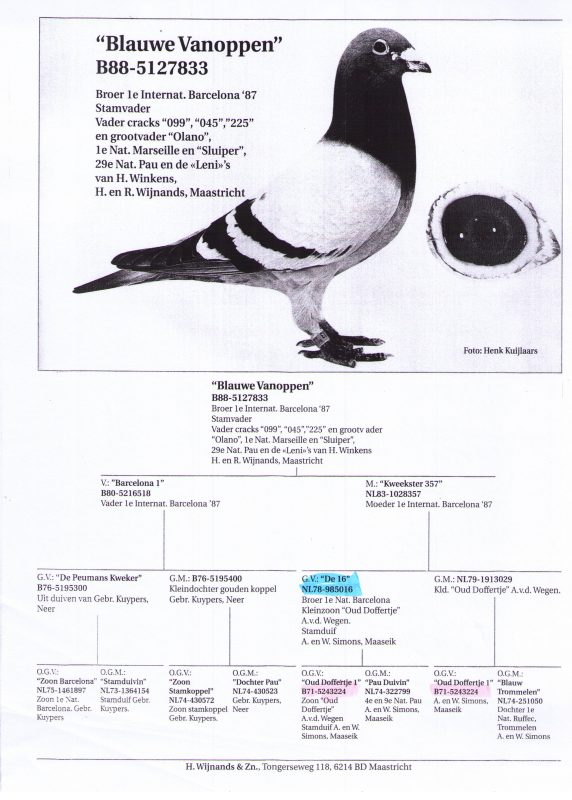 No need to tell you that these pigeons are conspicuously hard time as the test of Pau in 2015.
With the sister of DIESEL were made  :
The 125950 2011 black tortoiseshell

2012, NARBONNE 34 nat/2022 and 464 int/11000 pigeons
2013 no participed in the international races
2014, ST VINCENT 106 nat/2836 and 197 int/11388 pigeons + AGEN 849 int/11227 pigeons
2015, ST VINCENT 87 nat/2697 and 121 int/10737 pigeons + NARBONNE 54 nat/2770 and 308 int/10732 pigeons.
2016, ST VINCENT 42 nat/3379 and 207 int/10643 pigeons + PERPIGNAN 34 nat/3333 and 364/12689 pigeons.
7 prices of  7 basketed in the international races and 2nd Ace Pigeon on 3 lasted St Vincent 2014, 2015 et 2016.

Sister of DIESEL coupled with The Piet Overkleeft are made :

The 740 ash blue 4 prices of 5 basketed in the international races with the 54th International Perpignan 2015 of 15937 pigeons.
The 730 ash blue 4 prices of 5 basketed in the international races
The 702 blue 3 white feathers  4 prices of 5 basketed in the international races with the 55th international St-Vincent 2015 against 10737 pigeons and the 99th International Pau 2016 against 9908 pigeons.
The 756 blue 3 white feathers, 2 prices of 3 basketed in the international races
The couple was reconstructed in August 2016.
These pigeons have not yet participated in the races of Narbonne, Marseille and Barcelona.
Many other brothers of these two couples have not yet participated in international, they are learning on half distance races and the "Petit Charly" has joined the breeders at the end of 2015. It must be said that the weather has not encouraged Jean-Paul to launch into the deep end of international tournaments in 2016.