1st Semi-National St-Junien Yearling et females
1st Semi-National Agen Yearling et females
Fledgling colony, Christophe restarts pigeon racing in 2014, the Sainsoise colony from the beginning left its mark since 2015 she already won two 1st prizes in the very select province of Bethune (recall that the city of Sains-en-Gohelle is located western province ) . 2016 was only after 2015 because of seasonal Christophe input his name a first time in the Top North Pas de Calais victories of ALC- CALC (Semi-National) winning the St- Junien Yearling and female category . The Sainsoise colony gives it a few weeks later by winning the prize on Agen Yearling females and the ALC- CALC Nord Pas de Calais. Bethune province side it hangs 2 victories on Brive and Châteauroux yearling.
Story :
Christophe came early in the pigeon world , since the age of 9, he already attended the arrival of competition with his cousin Jules HAPPIETTE which at the time was playing very strong competition in federal and local of Mazingarbe . It is by seeing an arrival on Survilliers ( speed contest ) , his heart flipped in pigeon . Since that time this passion was more left .
Christophe takes a first license to « the Steel pen " of Sains-en-Gohelle . He played several years, making time to time some money but for professional reasons , has had to Christophe , the stomach ache , to hang up his racing pigeon clock.
Some years have passed , 20 in total. During this slow period , Christophe was interested in another bird canaries colors. It was raised to about 250 subjects , he even won the gold and silver medals in the championship of France . This breeding has allowed him to wait , but his heart was still beating for the pigeon
In 2014 came the big day , a job transfer that transfers Christophe a station in the Lille region in a post on Bruay la Buissière , 10 minutes from home, and the flame went back up again. With the help of good friends , they left disassemble the loft of Mr René BONNIN , former chairman of CIF, in La Vallée au grain, in the Aisne department. And also dismantling of another pigeon in Belgium. Lifts structures, it only needed to introduce the best Christophe origins in order to compete with the competition in its industry as the Guyo Family ( General Champion 2016 ALC- CALC Nord Pas de Calais) . The aim of Christopher being eventually shine in the competition of long -distance and international races.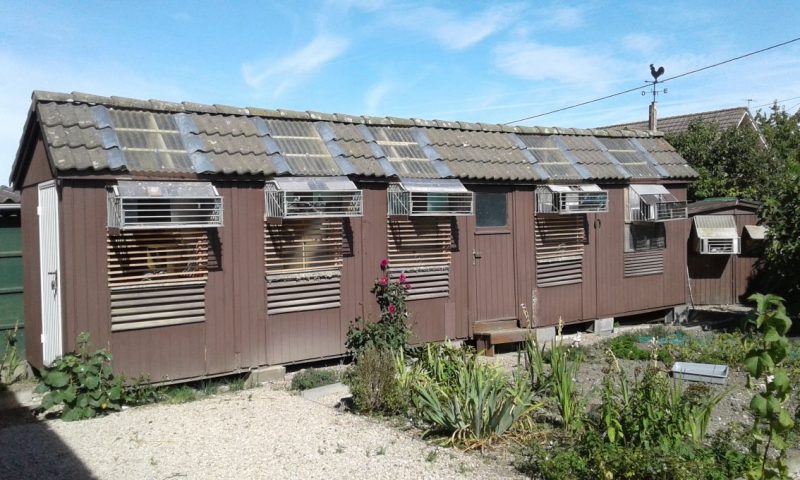 The Guyo family of Hersin- Coupigny , Jose Apesteguia and his brother were the first to give of their best pigeons origins.
The origins :
Training chef Christophe was pleased to meet with Alain Pocholle from Morbecque during demonstrations "friends of Agen ." He was even their personal chef . Besides pigeon other topics brought them together : Running , trade unionism . The current is passed quickly and Christophe bought several eggs couples. These pigeons are now breeding the Sainsoise colony.
In addition, Christopher is also good friends with Emmanuel Guyo ( colony Guyo Family Champion 2016 ALC- CALC North Pas de Calais) . Emmanuel enormously and continues to assist Christophe for the game , care … 50% of the Sainsoise colony based on the origins of Guyo family. Christophe and Emmanuel are welded and both live to be 100% passion. Christophe knows he has much to Emmanuel , thanks to these valuable advice, it earned him years of pigeon racing .
Other topics from Wisnieski Pierre, Sylvain Meiller, Jose Apesteguia, Yanninck Beck also were introduced and direct purchases were made at Jos Thone and Wijnands.
Christophe is now focused on the origins and works to form his own bloodstream. It is clear that it will take time , but Christophe prefers to take his time and do not rush .
The conduct of the colony :
Wanting to buy time to be at the top as quickly as possible , Christophe decided to play in total widowhood. Thus males and females participate in the contest in order to make a faster selection on lines introduced to keep.
The yearlings are played on the assistance of ALC- CALC until Agen or Cahors. Pigeons two years for their part in competitions to St. Vincent or Bayonne , and that Agen.
It is only from 3 years that pigeons are basketed in international tournaments . Some say it is too late and must be used pigeons to these releases large radius as soon as possible , but Christophe has already lost some very good pigeons on these competitions , he said lack of experience .
The youngsters are played on their perch in speed and middle distance.
Mating takes place in November , for breeding , and in March for travelers , young yearling mated in September so they can make their case . After a six-day incubation , they are separated . Old raising a young end of the season.
Regarding food, Christophe trusted the mixtures of BEYERS brand. It also uses the BEYERS supplements according to the schemes of the firm. For Christophe , the main thing is that pigeons are healthy , then this is for him to do everything so that these subjects give their maximum. Christopher remembers a sentence that the father of her cousin always said, " listen to me well tiot in your pigeonhole you athletes, you, you're the coach , to you to motivate them to win, and to you of their to health, and this 365/365 days. The prices you make them in the winter, that says it all , we do not treat a pigeon, in March , just before the contest . " It is this phrase engraved in his memory that Christopher tries as best as possible to implement .
Prize list :
2015

1 Guéret Provincial female (group of de Béthune)

1 Limoges Provincial Yearling and female (group of Béthune)
7 Argenton Semi-Nationale (NPDC)
1 Châteaudun pigeonneaux sector
181 classed by 10

2016

500 classed all category confused
202 classed by 10
1 Semi-National (NPDC) St Junien Yearling et females CALC

1er NPDC St-Junien 2016

1 Semi-National (NPDC) Agen Yearling et females CALC
1 Provincial (grpt Béthune) CALC Brive
1 Provincial (grpt Béthune) Châteauroux Yearling

1er Chateauroux Grpt Bethune

Champion 2016 Yearling more classed Amicale of Artois
4/10 Pau International Females