By winning this season 2019 the 3rd place on Pau International against 3193 Hen, 19th place on St-Vincent International against 2128 hen and 177th place on Perpignan International against 3292 hen, Luciole from Alain & Valérie Pocholle from Morbecque (59-France ) became the best European female on Marathon races 2019.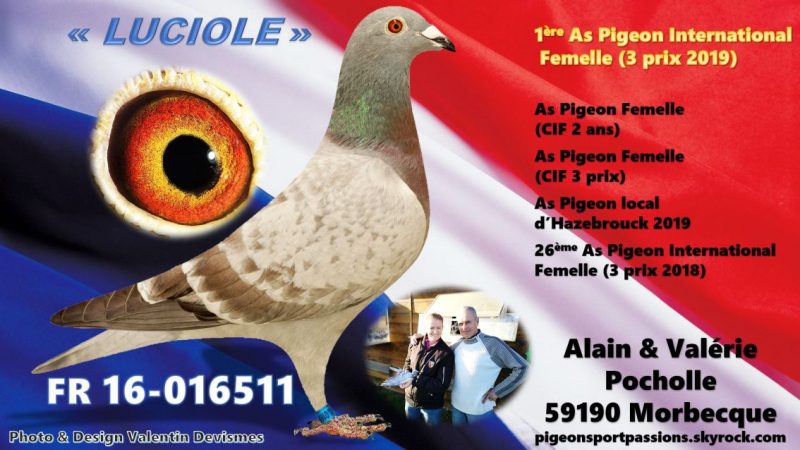 For 3 years, Luciole has been making an impression. Indeed after winning in yearling the 8th place on St-Vincent Semi-National of the ALC-CALC as widowed hen, Luciole obtained its place in the very select team of 12 hen devoted to the internationals of the colony of Alain and Valérie Pocholle . Played naturally, Luciole shows all his talent during these last 2 seasons 2018 and 2019: She achieves a flawless on 6 participations in international races.
Breeding with a late bird to March 21, for a first egg laying in early April, Luciole was put in over-brooding until the end of April. After that there followed 3 weeks of celibacy to be put back in house to have an egg beaked on the day of the dressing of Pau. On his return, his young being 6 days old, Alain passed him 2 others so that she broods and finds himself in the same position for St-Vincent. On the return from St-Vincent, his first youngster having 22 days, Alain removed all the eggs, thinking that Luciole would respond quickly and will be again in the same position for the third international competition. His 2nd egg only fell 3 days before the boxing of Perpignan, this did not prevent Luciole from winning an international top 200 on Perpignan hen after having previously won 1 TOP 5 and 1 TOP 20 respectively in Pau hen and St- Vincent International Hen. These 3 places allow him to win the title of European Ace Pigeon Hen 2019.
Extract from his prize list :
Ace European Hen Marathon races 2019 – 3 prizes
3 Ace Europen Hen Marathon races 2019 – 2 prizes
Ace National Hen 2019 –  3 prizes
Ace National Hen 2 years 2018 – 2019
6 Ace European 2018 – 3 prizes
6 Ace European Hen 2018 – 3 prizes
3/3193b Pau International Hen 2019 846kms
19/2128b St.-Vincent International Hen 2019 832kms
26/12119b Pau International  2019 846kms
32/1767b St.-Vincent International Hen 2018 832kms
116/9544b St.-Vincent International  2018 832kms
151/10623b St.-Vincent International  2019 832kms
156/11714b Pau International  2018 846kms
177/3292b Perpignan International Hen 2019 896kms
227/2728b Pau International Hen 2018 846kms
490/12349b Perpignan International  2018 896kms
615/12770b Perpignan International  2019 896kms
752/3065b Perpignan International Hen 2018 896kms
On the paternal side, Luciole's father is late bird 2014, put directly to the breeding loft. Her father is Illico, another star from the colony of Alain and Valérie Pocholle. Illico was received as a gift by Gilbert Depoortère (France), friend of the Pocholle family, Illico has in these origins the Mana Eva of Marchiennes (France), the famous "Zélé" Deneufbourg and the line of "La Crevée" (13 international prizes including 7 times Pau) from Alain and Valérie Pocholle. Illico wins a 4 prize of 4 engagements on Pau International and becomes the 8th Ace Pigeon International Pau 2015 – 2018.
Her paternal grandmother is a daughter of 17390-2005 (5 times Barcelona prize, 3 times Narbonne prize and 2 times St-Vincent prize) mated to a hen inbred from Roger Tantart's Nocturne (France). We find again the line of "Crevée" in this hen.
Luciole's mother is an original Sébastien Thullier from Villeneuve d'Asq (France) and was also placed directly in the breeding loft. Remember that Sébastien Thullier won the 1st National Pau in 2017 and that his colony is at the origin of the Ace European Pigeon 2005 from Jack Gruson (France) and the 1st International St-Vincent 2015 from Claude Ledoux (France).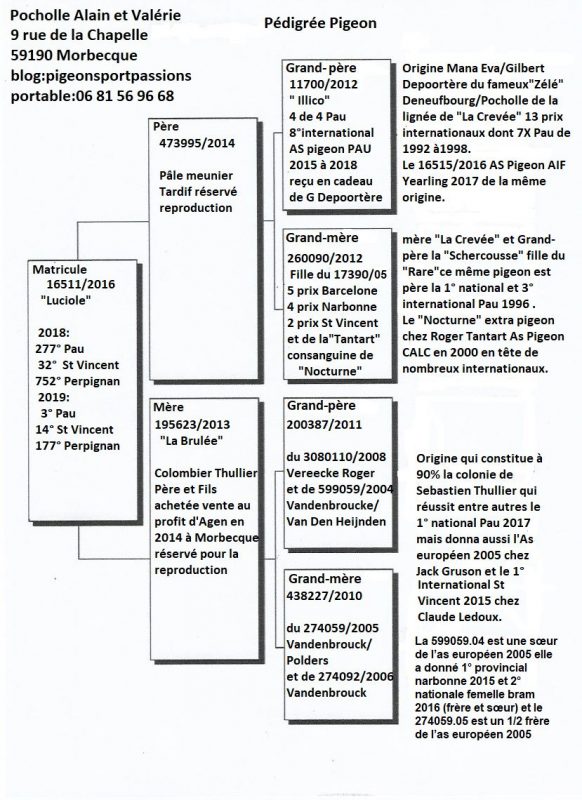 Luciole will again be part of the play team for the 2020 season, Alain and Valérie will once again do everything in their power to best prepare their hen in order to re-edit her exploits of the past 2 years.
It all started in 1975 for Alain Pocholle. This year, it was the first contact as a volunteer in the local pigeon racing society Aigle from Merville (France). This would change his life. A long-distance runner, Alain was gradually going to go from running to a pigeon competitor. His first sports license was taken the following year 1976 with immediately results in youth by removing the speed and federal championships.
The pigeon which marked and still marks its colony (see the pedigree of Luciole) is the famous "Crevée" with its 13 international prizes including 7 times Pau and its 24000 Kms / prize. It is the source of an incredible number of champions.
In 2005 Alain moved house with Valérie in Flêtre (France) and immediately formed a formidable team, then moved to Morbecque in 2008 and the colony, which at the time was still limited to 40 subjects, will expand to 70 pigeons breeding pair included. It is not the number that makes the quality. In 2013, Alain and Valérie won the IFC 4000 title (Title which they won again in 2014 and 2016). One of the hardest championship because You have to be classified with the 2 first basketing, with the 10 first 10 basketing. In these years, they also won the Ace 3 prizes and the Ace Barcelona / Perpignan and their best sailboat of the moment is Divin. Divine started his career at the age of 18 months on Tarbes 2010. He won 5 TOP 100 National.
Divin win :
Ace National Marathon races 5 years and 14 prizes in international races with 5 times Pau.
57/3156b Agen National
69/1604b Pau National
81/2395b Perpignan National
84/2009b Pau National
88/2697b St-Vincent National
…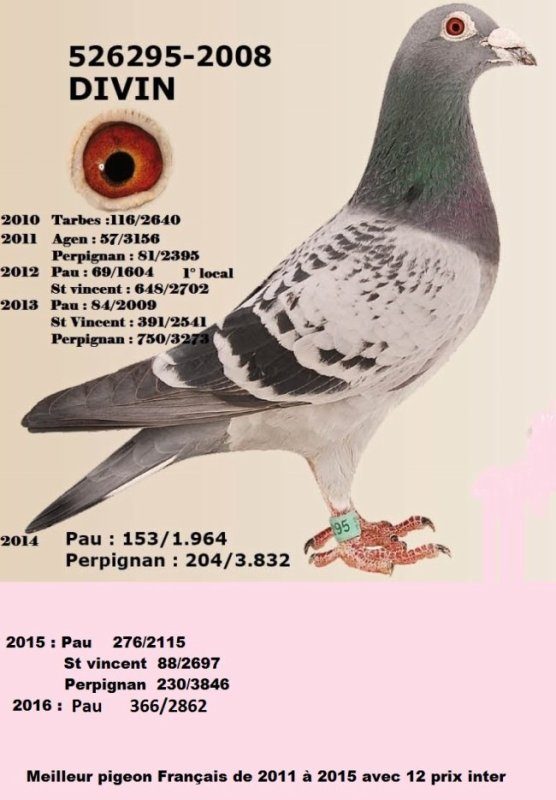 Divin is the father of 3 Ace pigeons with 3 differents hen who win on Narbonne 2018 et 2019 les 14th, 19th and 62th International prizes.
In 2015, another hen stands out by winning the 1st National Barcelona Hen.
2016 was the Olympic year and the year of consecration :
European Champion 2016
French National Champion 2016
Winner Pipa IATP Ranking 2016,
Ace European 5 years with Frappadingue. Frappadingue win 14 prizes in international races with 5 times Barcelona
The only disappointment in 2016 was the title of ZLU Champion, which passed under the noses of Alain and Valérie Pocholle due to poor writing of an e-mail to validate the results (this would have made the Morbecquoise colony the only French to win this title).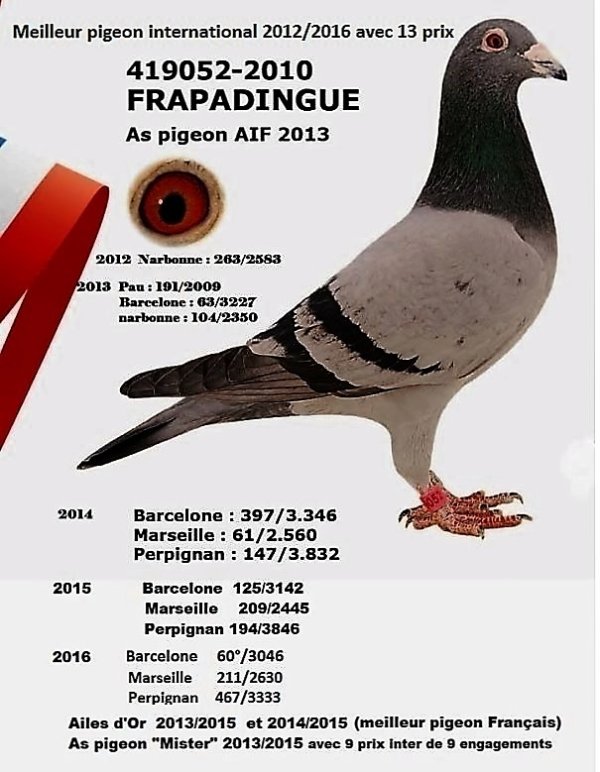 Some say that having a crack is exceptional, and it does not happen every year !!! What can we say about the colony of Alain and Valérie Pocholle since 2010 where we must add to "Divin" and "Frappadingue":
"Farou" : 10 prizes of 10 basketed in International races with 3 times Pau, St-Vincent Perpignan triple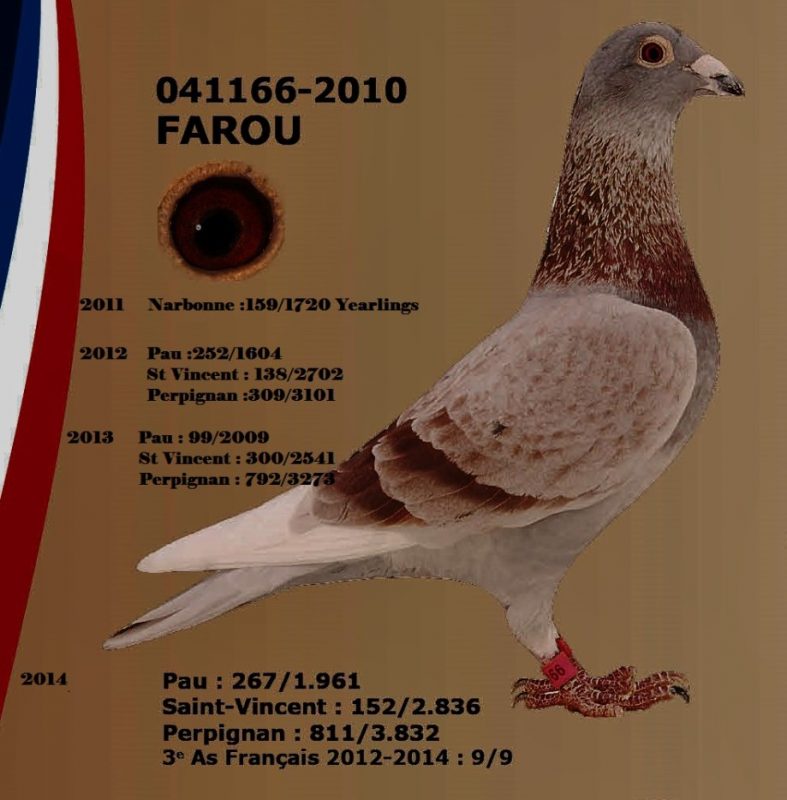 "Granit" : 12 prizes on International races with 4 times Pau, St-Vincent, Perpignan triple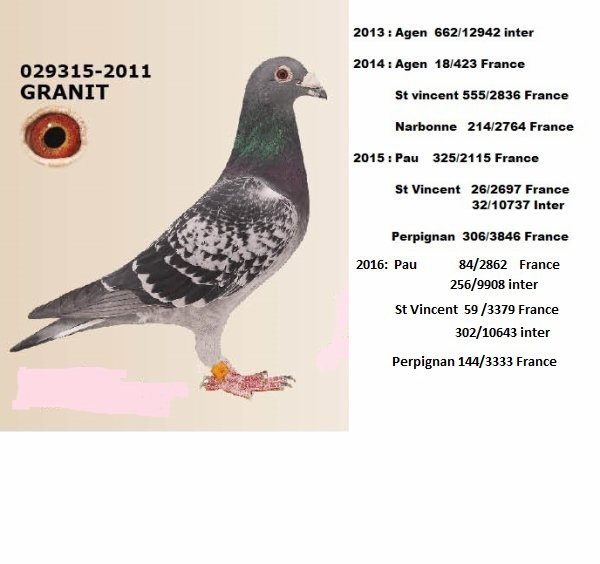 "Habille" : 12 prizes on International races
"Juillet 26" : 11 prizes of 11 basketed in international races with 3 times Pau, St-Vincent Perpignan triple and 4 times St-Vincent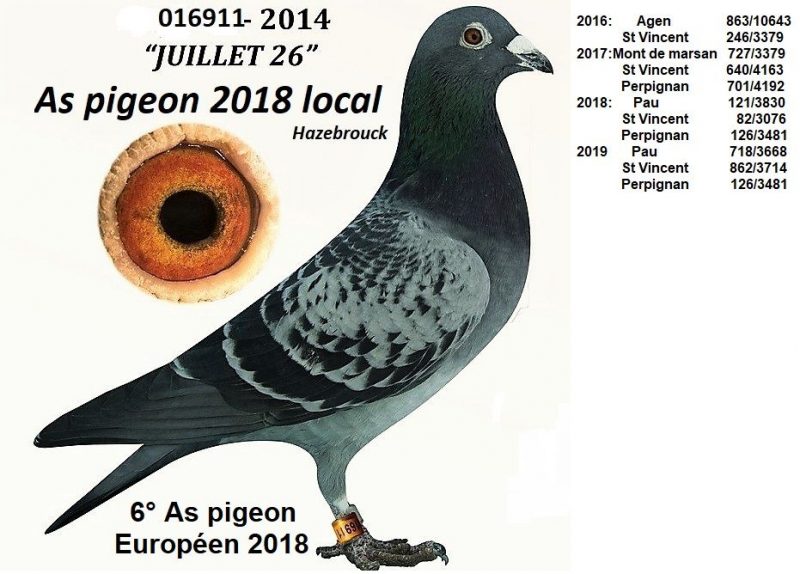 All this cracks have "Crevée" for grandmother or great grandmother.
Luciole is added to this list with 6 prizes from 6 international races and 2 times the Pau, St-Vincent Perpignan triple.
What is missing in Morbecquois ?An international victory quite simply, with a succession finally constituted it is their next objective and therefore that the celebration continues.
Let them wish to succeed in their next goal like the previous ones they had set for themselves.