4 Ace National Great Medium Distance (500/750 Kms) 2018
1st Ace Great Distance Francolomb Awards 2018
In a previous article of September 2017 (link to the article), we had presented 2 stars of René Van Roose'loft in Landrethun les Ardre. 2 Ace pigeon from breeders directly acquired from the Scheele Brothers of Terneuze (NL). This origin has still made speak of her and the colony of René Van Roose in this season 2018, and after-that
The Fast Jarnac: 17 prizes per 10 of 17 basketed at race more than 500kms with 4 times the first place at the local and One Semi-national victory over the race of Jarnac against 3153 Yearling and the highest speed of 8063 birds),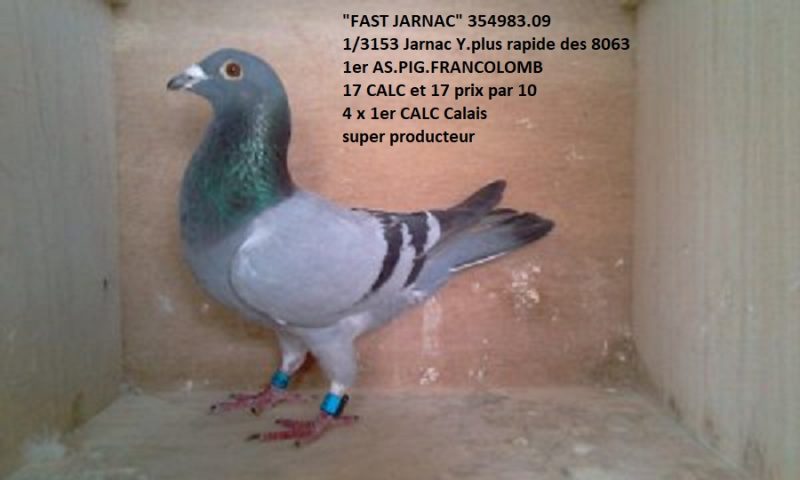 The Jan: 17 prizes per 10 from 20 basketed in the races more than 500kms. He win 3rd National Ace Pigeon 400-700kms, As pigeon "La France Colombophile", 4 times first at the local
It is the "Rare" which is brought to the highest colony of Landrethun Ardre. The "Rare" wins the very select Ace Pigeon Great Distance of the Francolomb Awards and wins the 4th Ace Pigeon National 500 / 750kms in 2018.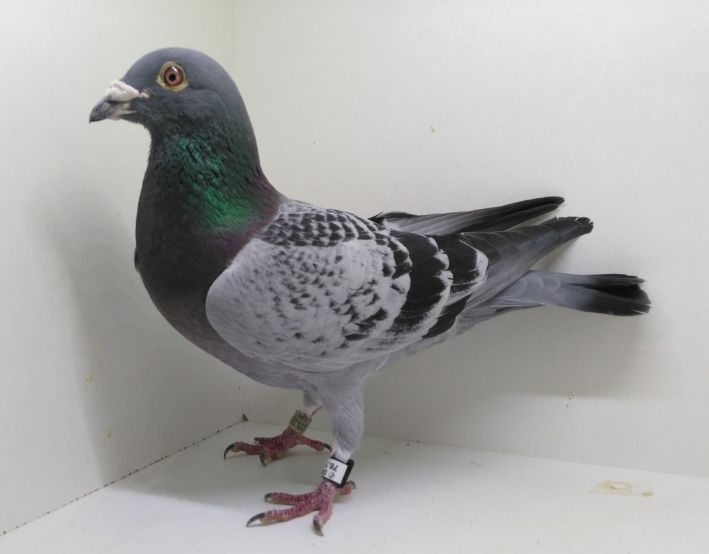 Simply trained as a youngster, the "Rare" really participates in the competitions in 2017 with as a training :
252/1470p Pontoise  191 kms
9/1380p Fontenay sur Eure
En 2018, he win :
24/1601p Vendeuil  136 kms
278/1615p Pontoise  191 kms
237/955 Chateauroux local
1531/6295p Chateauroux Zone
2718/14811p Chateauroux Semi-National
2/716 St Junien local 553 Kms
8/5768p St Junien Zone
43/12925p St Junien Semi-National
2/426p Treignac local  587 Kms
10/3980p Treignac   Zone
104/8673p Treignac   Semi-National
1/386p Brive  local 623 Kms
9/2708p Brive   Zone
9/5765p Brive  Semi-National
1/175p Souillac local 659 Kms
7/1708p Souillac  Zone
11/3641p Souillac  Semi-National
Like Fast Jarnac and Jan, The "Rare" is a 100% Scheele Brothers. He is also a half brother of Fast Janac (same father).
We thus find paternal side, the NL-2007-1897841, son of Bonte Armand (son of Armand) coupled with the Elke. The Elke comes from the super breeding pair of Brothers Scheele (Superboy x Dochter 666).
On the maternal side, it is a direct Scheele Brothers inbred Superboy (father and grandfather of many pigeon cracks at the Scheele Brothers).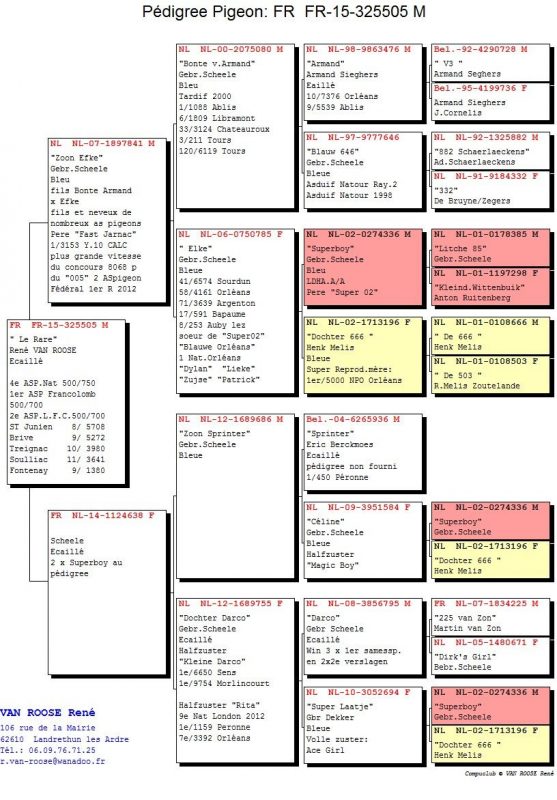 René thus has a solid base with these Scheele breeders allowing him year after year to produce Ace pigeons for racess from 450 to 700kms. So you can still count on him in this season to truster the first places in semi-national competitions.