The Consecration for 2016 racing season
General Champion French International 2016
1st Champion 1st Designated
1st Champion 2 1st Designated
1st Champion 3 1st Designated
In recent years, the French fanciers are increasingly attracted to international competitions. This enthusiasm is due to the dream of winning an international victory but also appear to be at the top of the prestigious European Cup .

Lorsque l'on parle des concours internationaux dans l'hexagone,  le nom de la colonie Pocholle revient vite dans les discussions. Depuis plusieurs décennies, Alain Pocholle s'est spécialisé et se distingue sur ces marathons du ciel. Il a gagné entre autres, le 1er National de Pau en 1996 et le championnat de France des Internationaux en 2000. Il s'est également classé 5ème à la Coupe d'Europe 2013 et 7ème à cette même coupe d'Europe en 2014. L'année dernière, la colonie Morbecquoise remporte le championnat d'Europe au 1er Inscrit sur les 5 concours internationaux.
When speaking of international competitions in the hexagon , the name of the colony Pocholle quickly comes up in discussions . For decades, Alain Pocholle specialized and distinguished these marathons of Heaven. He won among others, the 1st National Pau in 1996 and the Championship of France in 2000. International He also ranked 5th in the 2013 European Cup and seventh at the same European Cup in 2014. The last year, the Morbecquoise colony won the European championship 1st Joined on 5 international competitions.
History :
Having tasted pigeon during his youth and after a period devoted to running, Alain returned to the pigeon sport in 1975 more than half a century devoted to his passion. Alain quickly gets very good results but also invests heavily in community life.
That's a decade Alain converted his wife Valerie at the pigeon.
Everyone has a defined role in the management of the colony. Alain focuses on the play of pigeons while Valerie handles bascket, drives and administrative monitoring .
Only international competitions are concerned, the others being simply played under preparation for the marathon stages.
The origins :
The settlement is based on the famous " tired " – FR49217-1990 (direct descendant of crack Gruson x Pochet ) :
– 7 times price Pau whose 8th Int Females Females 1993 and the 17th Int 1994
– 2 times price to Dax
– 4 times Perpignan
– For a total of 13 prizes of 13 commitments in international
– 13 times price more than 500km
– 49 times price within 500 kms
– A total of 24,000 kms / price
This female has proven to be an outstanding breeding and appears in the pedigree of most current racing pigeon.
It is notably the mother of the 1st National Pau 1996, grandmother and great grandmother of many Ace Pigeons . Also found in the origins of the colony Gruson , the Schercousse and Ooghe pigeons and Sion via D. Boussekeyt . The introductions are few ( 1-2 pigeons per year).
Unlike many mega colonies to participate in the international program , the colony has only 70 subjects winter : 24 widowers whose yearling 3 and 5 of 18 months, 24 females played on natural or widowed , 3 breeding pairs and a dozen of late . This does not prevent Alain and Valerie to hire 10-15 pigeons in each competition.
So for this 2016 season :
– Pau : 8 old pigeon were prepared and 7 basketed more some females
– Agen ( basketing Belgium ) : Engaging 5 pigeons of 18 months.
– Barcelona : 8 old pigeon were prepared and 7 basketed more 5 females
– St. Vincent: The 5 Best of Pau + 2 of Agen and 5 females
– Marseille: 2 worse of Pau , 5 pigeons of Barcelona, 1 of Agen and 3/4 females
– Narbonne : 1 or 2 of Barcelona, the 3 remaining of Agen, 2 of St. Vincent and 5/6 female yearlings including 3 for the dubbing .
– Perpignan : Pigeons of Marseille and those of St. Vincent 10 males and 4 or 5 females
Either for this 2016 season, played 7 international competitions, 75 basketed pigeons (on average from 10 to 11 pigeons per contest ). 1/3 females and 2/3 males.
Sides results 5-6 price for females and 38 to 40 awards in males. 6 pigeons with 3 prices of 3 basketed and 2 pigeons with 2 prices of 2 basketed.
Young generation side , Alain and Valérie will raise a dozen young spring . Despite this low breeding , they are not spared and that both males and females participate in at least one federal contest Nord Pas de Calais over 500km ..
As for yearlings , they should all fly an international competition.
Conduct of the colony :
The power level, the pigeons receive all year the same basic mix: the Liège (mixture without maize) almost at will distributed during morning and evening racing season.
From March 15 until separation of the sexes, this mixture is added 25% corn.
Then to the last contest, all basketed receive corn evening (harvested by Alain & dried) unlimited 4 to 5 days before basketing.
During moulting, the pigeons receive the same mixture Liege completed 20% of corn and 5% rapeseed.
By the end of molting or early January, the pigeons are given a mixture of 75% barley. The other 25 percent is made up of unused seeds (Liège, maize, wheat …)
Throughout the year at a rate of once a week the pigeons are given a mixture of dandelions, plantain, mint, parsley, chives, garlic …
Vitamins are added to the grains 2 to 3 times per month. The aviol and cider vinegar are given alternately at the rate of one tablespoon per 1.5 liters of water.
The pigeons :
– 'Frapadingue' (FR10-419052)
This is currently the most fashionable of the colony of Alain and Valérie traveler. Since 2014, he basketed on 3 international competitions (Barcelona, Marseille, Perpignan) and regularly performs its price by 10. Regularly found first in Morbecque , " Frapadingue " Pocholle allows the colony to score points for the coveted championship.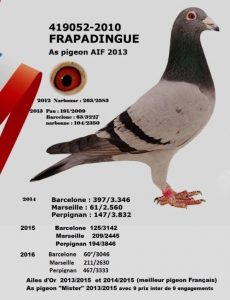 – 'Divin' (FR08-526295)
'Divin' is an older traveler the colony. Age 8 years , it's also a safe bet for points in the championships . He began his career at the age of 18 months on Tarbes in 2010. This is because a pointer has already won 5 awards in the top 100 French national .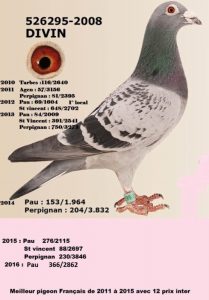 – 'Habile' (FR12-019614)
"Habile" began his career with a price on Narbonne 2013, then confirmed in 2014 where he won three awards at Pau, St. Vincent and Perpignan ( twice 10) in 2015 where he won the 89th international Pau.
-'Illico' (FR13-011700)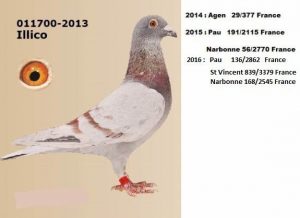 -'Granit' (FR11-023315)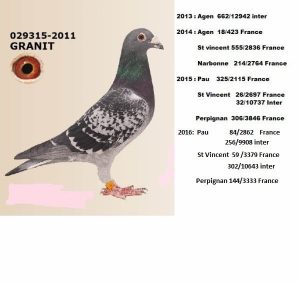 -'Impérial' (FR13-028591)
Brother of Granit.
2015 : Price at Pau, Narbonne and St VIncent
2016 : Price at Pau, St Vincent , Perpignan and Ace Pigeon setting Hazebrouck houses
Congratulations to Alain and Valérie for your performance and your regularity in 2016 for several years. Your pigeons are part of sound values for marathons sky and the view of the composition of your colony , no doubt that we still talk about you the next seasons I hope for your first international or cutting of Europe.
Extract the charts of the colony of Alain and Valérie Pocholle in International :
 3° National Pau 1989
  1° National Pau 1996
1st Champion International since 1996 at 2000 at 1st Designated
1st French internatinal Champion 2000
1st Ace racing pigeon Franco – Spanish 2004
Moving early 2005
8rd French International Champion 2007
3rd French International Champion 2008
2rd 3 1st Designated et 5 1st Desiganted international 2008
2rd French Champion I V F 2008
Moving the end of 2008
3rd French Champion International 2013
5rd General Champion European Cup 2013(4rd French pigeon foncier)
1st General Champion IFC 4000 2013
Ace pigeon "Association des Internationaux de France" 2013
7rd Champion "Europa Marathon"2013
4rd French Champion International 2014
1st Champion 2 1st Designated French International 2014
7rd General Champion European Cup 2014(3rd French pigeon foncier)
6rd National Barcelone 2014
1st Champion"Master" A I F  2014
1st Challenge"Rhone/Alpes A I F 2014
1st Champion général IFC  4000 2014
1st Ace pigeon IFC 4000 3 prix 2014
      1st National female of 733 females Barcelona 2015
1st Champion 1st Designated French International 2015
4rd Champion French International 2015
1st Champion 1st Designated European Cup 2015
1st Challenge"Atlantique" Aif 2015
3rd "Europacup" Barcelona by team 2015.
2rd Champion Marathon Z L U  2015.
2rd Champion IFC 4000 super trophy 2015.
3rd PIPA IATP 2015 ranking of 1st Designated of 6 international races (International All Times Pigeon)
1st Champion Grand Fond "La France Colombophile"
1st Ace pigeon international 2011/2015 with 12 prices – 526295/2008 "Divin"
1st Ace pigeon international 2014/2015 et 2013/2015 with 9 prices of 9 basketed – 419052/2010 "Frapadingue"
2016 The consecration
1st General Champion French International 2016
1st Champion 1st Designated French International 2016
1st Champion 2 1st Designated French International 2016
1st Champion 3 1st Designated French International 2016