Registration number :
Gender : Unknown
Category : Unknown
Breeder : Gilbert Depoortere
Seller : Hirondelle Beuvry Laforêt
Classé 1er Champion Général CIFR en 2015 et 2017
Trois As pigeons classés dans le top 10 (3éme,4éme et 7éme) CIFR 2019
Gilbert vous offre un petit fils ou fille de son fameux "ROUX de NARBONNE",l'un des meilleurs fonciers Européens de ces derniéres années:
1er Barcelone CIFR 2017 1er As pigeon CIFR 2015(trio Barcelone MarseillePerpignan) 3éme As pigeon Français BARCELONE sur 5 ans (2013-2017) 13 prix de 14 engagements en grand fond (5 fois Barcelone,4 fois Perpignan,2 fois Marseille,1 fois S-Vincent et 1 fois Narbonne) et qui terminera sa carriére exceptionelle de coursier avec panache,par le 1er prix de Barcelone CIFR 2017,42éme de 17026 concurents à l'international sur ce concours mythique qualifié par les experts du plus laborieux de ces 20 derniéres années.
La mère n'est autre qu'une femelle acquise à la vente  Gérard LEDOUX de la lignée de son As Européen 2016. 
Offre 1 jeune
Pédigrée de la Mère
Pédigrée du Père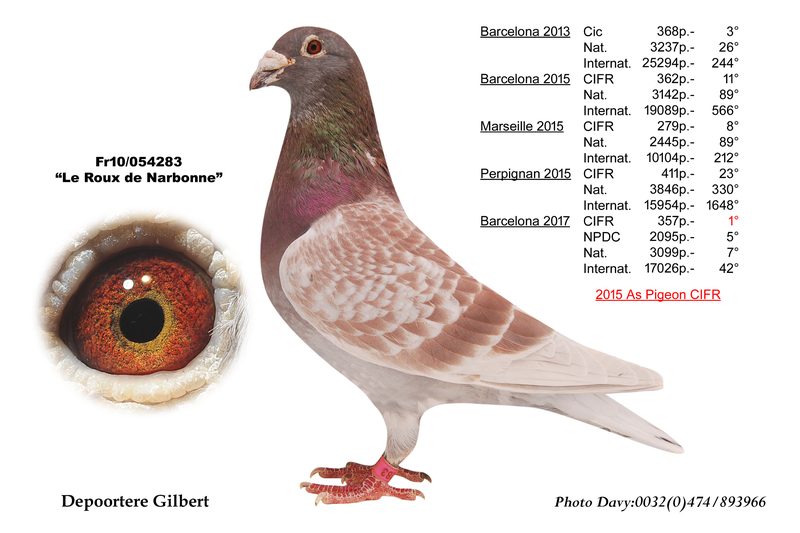 Bidding stops in
0d 00:00:00
Time is up.
Highest bid
80 €
by Deborah (France)
Bid saved !
You must be logged in to bid
. The auctions are open to all and entry is free. Sign up or log in :
Login
/
Register
.
Your bid must be an integer greater than the minimum amount specified.
An error has occurred. Your bid don't has not been registered. Try again.
Sorry, your bid was not registered in time ... It is finished.
This bid is closed.
Previous bids (
4

)
| DATE | BIDDER | BID |
| --- | --- | --- |
| 2019-10-07 19:54 | Deborah (France) | 80 € |
| 2019-10-04 22:01 | georges 14 (France) | 60 € |
| 2019-10-03 17:38 | jpd 62940 (France) | 50 € |
| 2019-10-01 23:07 | georges 14 (France) | 40 € |