Registration number :
Gender : Unknown
Category : Unknown
Breeder : Serge Dhont
Seller : Hirondelle Beuvry Laforêt
Champion Général du Club des Internationaux de Flines le Râches pour la énième fois ,les dernières en date 2018 et 2019, il n'y en a pas assez de ses 10 doigts de la main pour compter ses victoires. Je n'en dirais pas plus,tout un chacun connait la puissance de sa colonie dans les belles joutes internationales et autres.Une aussi belle saison en 2018 qu'en 2019.
1er et 3éme As pigeon CIFR et 1er Perpignan CIFR 2018 
Offre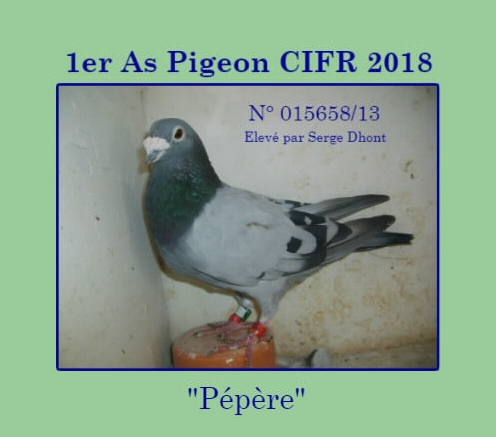 Bidding stops in
0d 00:00:00
Time is up.
Highest bid
100 €
by Esxos (France)
Bid saved !
You must be logged in to bid
. The auctions are open to all and entry is free. Sign up or log in :
Login
/
Register
.
Your bid must be an integer greater than the minimum amount specified.
An error has occurred. Your bid don't has not been registered. Try again.
Sorry, your bid was not registered in time ... It is finished.
This bid is closed.
Previous bids (
4

)
| DATE | BIDDER | BID |
| --- | --- | --- |
| 2019-10-06 09:48 | Esxos (France) | 100 € |
| 2019-10-04 08:55 | michel crombez (France) | 80 € |
| 2019-10-02 01:02 | MANNA Eva (France) | 60 € |
| 2019-10-01 19:39 | Yves descamps (France) | 50 € |